Smooth (skA)MRAPs at the (skA)nnex
THE SCENE:  Muggy, but not steaming (until we got to work).
F3 WELCOME & DISCLAIMER: Your Roomba is synced to the Atomic Clock. Started promptly at 5:30. Disclaimed like 4 Times Total. Some day I'll actually get to meet the REAL Meter Maid.
WARM-O-RAMA:
SSH, Daisy Pickers, Imperial Walkers IC x 20
Arm Circles IC x 15 Forward, 15 backward
THA-THANG:
MICROSCOPIC mosey to a grassy bit near the track. PAX saw a whiteboard and Gun Show reminded me that he was promised NO MATH. We did AMRAPS. This was based on a routine the M came up with for FiA, based on a periodic table of excercise to target a different muscle group, and to challenge each group incrementally. I guinea pigged this  and workshopped it with her. Made some adjustments for this morning based on challenge level and whimsy. I call them smooth because the exercises sort of flow into each other (Supermans feel good and give you an excuse to collapse after Merkins, etc.).
And the soundtrack? It's in the title, boyee. SKA!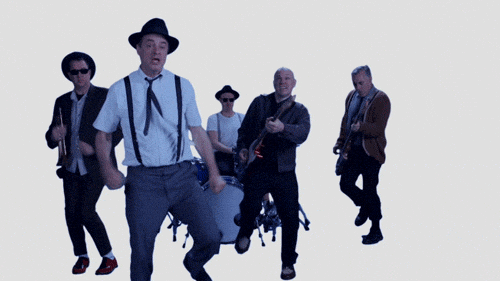 AMRAPS Progress as follows, changing one or 2 things each round.
Round 1
Round 2
Round 3
Round 4
Round 5
Duration
5 Minutes
6 Minutes
7 Minutes
7 Minutes
5 Minutes
Rep Count/ Hold Time
10 Reps/Seconds
10 Reps/Seconds
15 Reps/Seconds
15 Reps/Seconds
15 Reps/Seconds
Exercise 1: Legs
Squats
Squats
Squats
Squat Jumps
Squat Jumps
Exercise 2: Cardio
SSH
Mountain Climbers
(2 is 1)
Mountain Climbers
(2 is 1)
Mountain Climbers
(2 is 1)
Mountain Climbers
(2 is 1)
Exercise 3: Shoulder/Chest
Merkins
Merkins
Merkins
Merkins
Merkins
Exercise 4: Back
Superman
Superman
Superman
Superman
Ethan Hunt*
Exercise 5: Front
LBCs
LBCs
Cross Planks
Cross Planks
Cross Planks
Run!
Run to First Street Light
Run to First Street Light
Run to First Tree on Left (farther point)
Run to First Tree on Left
Run to First Tree on Left
An Ethan Hunt Is something YHC invented when trying to keep my arms out on a Superman, but kept losing balance. You extend your arms Forward and legs back like a Superman then move them to the sides and bring them back for one rep. Not sure why it's an Ethan Hunt? Remember than one scene in Mission Impossible? You know the one…
No (But it is a good one), the one with the wire and the sweat drop…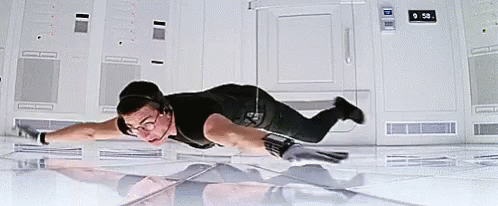 Yeah! That! That's why. It looks like that, but more sweat drops by this point.
The Mumblechatter was terrific and YHC had to take breaks from the laughter. We Gave Sonic and Tremor ribbing about them being so competitive with each other (These inhuman weirdos go for a sprint during the 20-counts that were betweent the last few rounds). Talking about celebrating Grimace's First Q back by visiting different AOs that day. Sonic wants to do Karaoke of Come on Eileen. Paralegals are obviously Ghost Lawyers. The Reps and steady ramping up in difficulty was really felt later on, with lots of freely-offered information about what exercises everyone hates and how we have at a lot of misanthropic knees in the group. Gun Show just can't stop knee-capping, even if it's his own patellas…
Micro-mosey back to Startex for Mary. 
MARY:
Flutterkicks IC x 10
American Hammers IC x 10
COUNT-OFF & NAME-O-RAMA – 10 PAX
Gun Show , Tremor, Paralegal, Lager, Beetus, Sonic, Jiminy (FNG), Couch Potato (FNG),  Speedy (AOQ), Roomba (QIC)
CIRCLE OF TRUST/BOM:
Yesterday, I went to a Funeral for a man I didn't know, but I knew from the speakers that he was such a pillar of his community and family and business that the room was a standing room affair. A few times it was said that others now have a large burden to bear now that his is gone. Freed to Lead also encourages HIM to be so integral in our communities that others aren't sure what they'll do without us. Let us strive to be that lynchpin and train up the next wave of men to be able to shoulder the burdens we'll leave behind.
MOLESKIN:
I Finally got to name some folks! The first guy was a fan of Cricket, hence Jiminy, and our second guy kept saying he was very active and hated sitting around, hence Couch Potato. Welcome guys. Hope you come back soon. I think that was Tremor that EH'd them. Good work, dude. I like the AMRAP model because it lets everyone go as hard as they can and self-regulate. I'm liking the new set of regulars. With it being Tiger Lily's last day posting, I thought it was gonna be like 4 PAX total, but I'm really impressed with the turnout! Good PLC, talking about our preferences with Museums and TVs
ANNOUNCEMENTS:
F3 Memphis's 2nd Birthday is 8/17 at the Mothership. Don't know if it's an official convergence, but it's gonna be big. Will there be a dunk tank where you can dunk the Nantan? Not with that attitude, there won't be.