Preblast for the week March 29th
Checking out last week in that Rearview Mirror: 
M:63, T:55, W:63, Th:7⛈, F:69 , Sa:8⛈ , Su:8 = 273 Total Posts!
FNGs (Welcome!): Swordfish, Bueller, Lucky Charms, Zuckerberg
WLs: ????????‍♂️
1ST F – Fitness
*BLOPS Monday 3/29 4:40 AM: Boot Camp workout at Field of Dreams.
*BLOPS Wednesday 3/31 6:25 PM: Boot Camp workout at Highland Church of Christ on Houston Levee.
*AO Quad City has added a new day! Starting this week, it will be open on Fridays at 5:30 AM for a Sandbag exclusive workout. AOQ-High Note.
*Psalty's VQ is this Wednesday at "The Wolf". Come support this HIM and run with the WolfPax!
Find the location nearest to you right HERE
This Saturday April 3rd from 9AM -11AM is Community Fitness Day at the University of Memphis. Join F3, FiA, and Ruck Memphis as we promote physical fitness to the local community. Bring the family!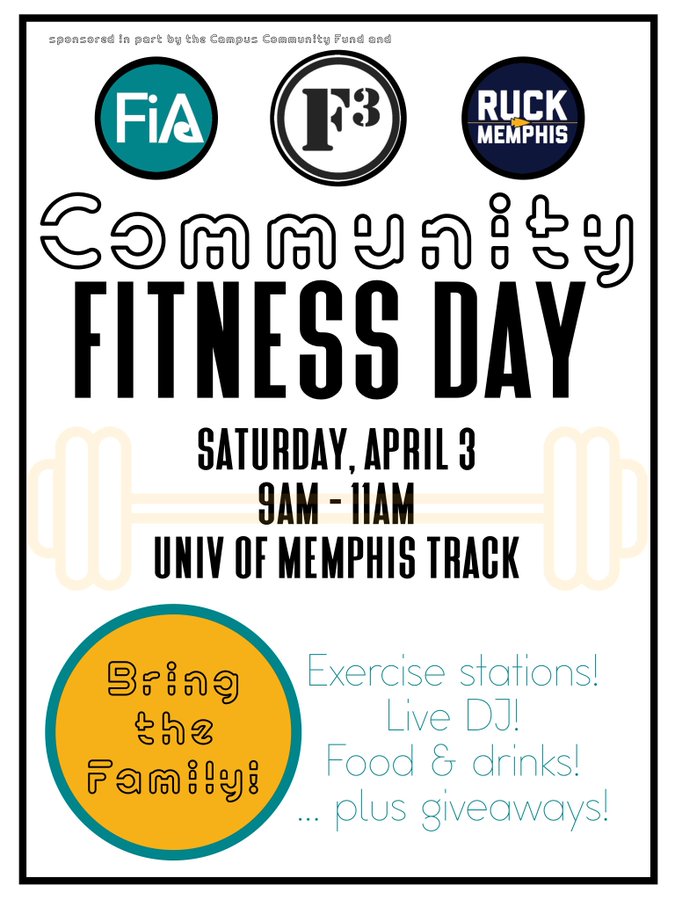 March 2021 Challenge – SQUATS! Ends on Wednesday 3/21!
This month's challenge is squats with a weight multiplier.
Gold: 4000, Silver: 3000, Bronze: 2000
For leaderboards and submissions: click here.
Grow Ruck 23 is open for Registration. Checkout the link HERE to register.
GrowRuck is a weekend-long event that combines F3 GrowSchool with a Rucking CSAUP event to immediately apply F3 leadership skills.
2ND F – Fellowship
FNG Week is here!!! March 29th -April 3rd. Bring your sad clown friends, co-workers, family, etc. Let's grow F3 Memphis together this week!
Want an F3 Shirt? The Levee has their AO shirt available for Pre Order. Get yours HERE. Last chance to get one as order entry ends Tuesday March 30th.
Checkout out Events Calendar for more 2nd F.
3RD F – Faith
Q Source Topic of the Week:
Shorties (Q1.6) – The Sacrificial Relationship Between A Man And His Children
Checkout the link and use it as talking points for shield locks, COTs, and on the slack channel #Q-Source-Q
The 2021 St Jude Marathon Weekend will be back this year and we have a team for F3 Memphis. Yoga Matt is our St Jude Q so direct your questions his way.  Race date is Saturday, December 4.
Here is the link to register.   In 2019 F3 Memphis PAX raised close to $13,000 but we're hoping to surpass $15,000 this year. We had PAX running and rucking in all the different race options so start EH'ing some PAX to join you.
We're working on more details but for now just get signed up, start getting your miles in, and we look forward to being downtown with you in December.
Our March Blood Drive continues. Here are some locations you can visit to donate blood. Log your blood donation HERE. Possible future opportunities to collaborate with FiA on this as well.
Volunteer opportunity at Neighborhood Christian Center for people willing to deliver food/water to those they serve…many of whom are the elderly & shut-ins. There's a process involved to get approved to drive…If you are interested please email Pam Cox to find out more info:  pcox@ncclife.org