Preblast for the week March 22nd
Preblast for the week March 22nd
Checking out last week in that Rearview Mirror: 
M:50, T:59, W:50, Th:42 , F:56 , Sa:35 , Su:10 = 302 Total Posts!
FNGs (Welcome!): Entropy, O'Shea, Sinister
WLs: Bluegrass #F3Montgomery, Sherwin #F3Tejas, Stoner #F3RogersAR
T-Claps to Pops as he handed off the shovel flag and AOQ duties to Bandwagon at #ao-armory
Equinox challenge is in the books! Here are your finishers:
Bootheel, Bruce, Dawson, Landline, Turkey Leg

This is what they did at minimum:
* Complete a 345 with another PAX
* Post 30 times
* Q 3 times
* Earn a medal in each monthly fitness challenge
* Complete the quarterly fitness test with another PAX
* Read 3 3rdF books from the recommended book list. Read alongside and discuss with another PAX.
* Participate in a 3rd F Opportunity (park cleanup, help a neighbor, service event, fundraiser, blood drive)
1ST F – Fitness
BLOPS Wednesday 6:25 PM: Boot Camp workout every Wednesday in March at Highland Church of Christ on Houston Levee
QUARTERLY FITNESS TEST Wednesday 5:30 AM at Bermuda Triangle
MURPH MADNESS Saturday 5:30 AM: Murph Hero WOD every Sat in March at Barracks
Scavenger Hunt at Ruckership 5:30AM and Mothership 7:00 AM on Saturday.
Find the location nearest to you right HERE
Mark your calendars for a family friendly Community Fitness Day – Saturday April 3rd from 9AM -11AM at the University of Memphis. Join F3, FiA, and Ruck Memphis as we promote physical fitness to the local community.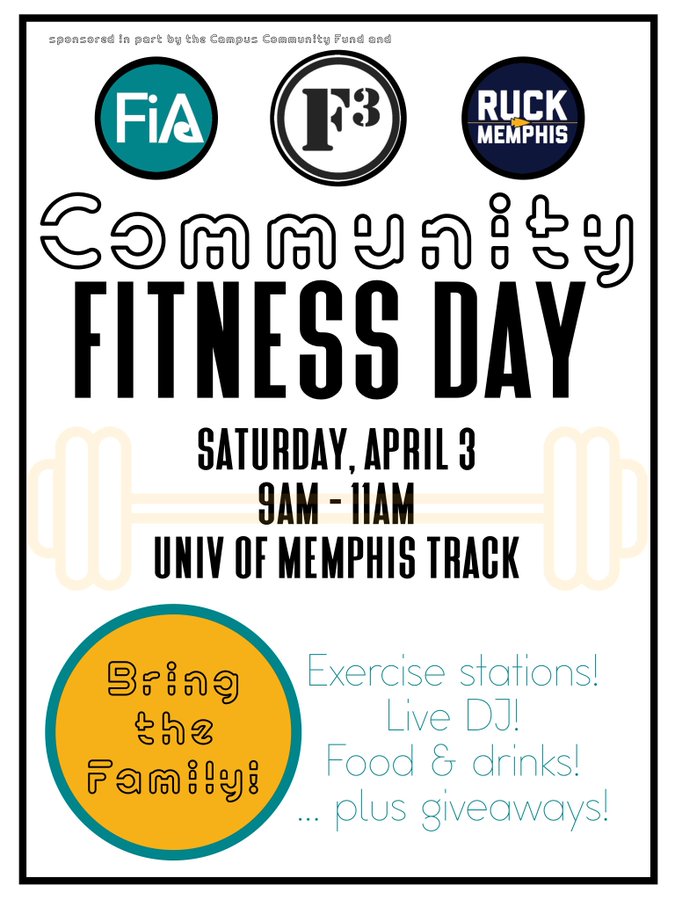 March 2021 Challenge – SQUATS!
This month's challenge is squats with a weight multiplier.
Gold: 4000, Silver: 3000, Bronze: 2000
For leaderboards and submissions: click here.
Grow Ruck 23 is open for Registration. Checkout the link HERE to register.
GrowRuck is a weekend-long event that combines F3 GrowSchool with a Rucking CSAUP event to immediately apply F3 leadership skills. By adding a CSAUP event (which brings a huge dose of 1st and 2nd F) to the GrowSchool experience, F3 Nation aims to catalyze and accelerate a location's growth and the bonds of brotherhood that form when several regions join together and accomplish a mission.
2ND F – Fellowship
FNG Week 2021 is quickly approaching! It is a call to action! In preparation for this important week, we want to cordially invite you to the FNG Week Launch Party. Come to the world premiere, red carpet reveal of the highly anticipated F3 Memphis Hype Video! Will your mug make the cut? Premiere is Thursday 3/25 8:00PM (Dad Late) in Landline's back yard in Germantown. Bring a chair and your favorite beverage. Check slack for the address.
Want an F3 Shirt? The Levee has their AO shirt available for Pre Order. Get yours HERE.
Checkout out Events Calendar for more 2nd F.
3RD F – Faith
Q Source Topic of the Week:
M: The Transformative Relationship Between a Man and His Wife
Checkout the link and use it as talking points for shield locks, COTs, and on the slack channel #Q-Source-Q.
Our March Blood Drive continues. Here are some locations you can visit to donate blood. Log your blood donation HERE. Possible future opportunities to collaborate with FiA on this as well.
Volunteer opportunity at Neighborhood Christian Center for people willing to deliver food/water to those they serve…many of whom are the elderly & shut-ins. There's a process involved to get approved to drive…If you are interested please email Pam Cox to find out more info: pcox@ncclife.org